As we all know, from the second half of 2016, indie games were increasingly valued by various manufacturers. In addition to Steam, App Store, Google Play and other platforms enhancing support, Tencent Games, NetEase Games, Dome Interactive Entertainment, CMGE and other manufacturers have also launched support programs for indie games. Indie games seem to embrace hope in the spring. Is this spring really coming?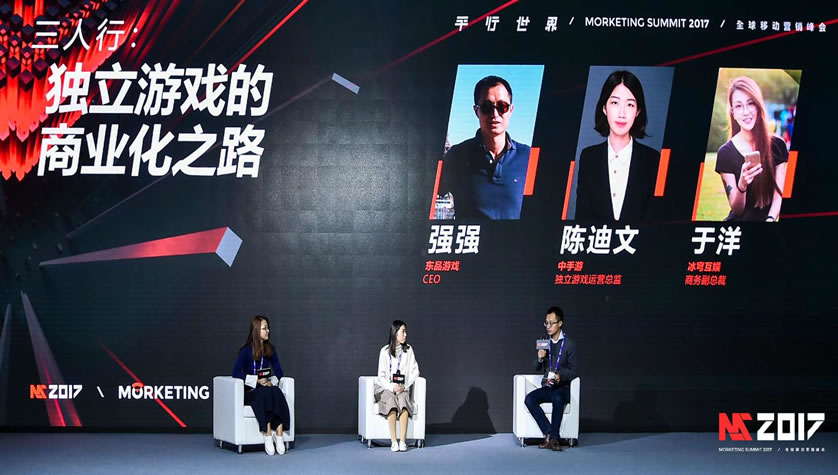 On November 30, in MS2017 Global Mobile Marketing Summit, Raymond, CEO of East2west Games, Chen Diwen, Operation Director of CMGE indie games, and Yu Yang, Operation Director of Dome Interactive Entertainment held a discussion about the commercialization of indie games.
Raymond: Hello everyone, I am CEO of East2west Games. I am guest host and give a brief introduction to the leftmost beauty from Dome Interactive Entertainment, and they are the first publisher of indie games and did a very long time to explore. Sitting in the middle is Chen Diwen, head of CMGE indie games. Personally, I think they are very experienced. We develop indie games and distribution of six or seven years, and also have some of our own experience and ideas.
Regarding the coming spring for indie games, how do you think about this issue?
Yu Yang: Before 2016, indie games have not drawn the public attention. Basically there were more overseas games, but very few domestic ones. There is no particularly good case of distribution. In the first half of 2016, we launched "The Greedy Cave" in the industry which getting some buzz. In the second half of the year, this game got several features of Apple. Major manufacturers started some plans for indie games. I think spring should come.
Chen Diwen: We are in hand of indie games layout in the second half of 2016, and now we have support program for indie games. A dozens of indie games got the features of Google and Apple, and so on. As to whether this spring is coming? Many people say that this year is the first year of indie games, and it may be indie game spring. But there are still many contents for everyone to further discover, do not just stay in the spring.
Raymond: These two ladies are basically in indie companies to do big game distribution. I have been in an indie team for almost six or seven years. From seven years ago, I started to do indie game distribution, and now our scale is the smallest of these three, but our history is the longest. In my opinion, the indie game spring had its wave in 2010. Three to four years ago, the gradual entry of manufacturers led to bankruptcy or leave of these indie game developers. And later developers took the initiative to find us to talk about cooperation, so this is the second spring. There is a sense of mission that in this spring we must grasp it and go out of different ways, including some exploration for commercialization.
There are also many commercial games on the market now labeled as indie games, how to define an indie game now? What are the characteristics and defects of indie games? How do you think about this issue?
Yu Yang: Indie game is mainly the developer's spirit, and developers abandon the shackles and bring happiness to everyone. That is the pursuit of the original essence.
Chen Diwen: I think there is no need to draw a clear distinction. No matter developers have strong spirit, we think that as long as it has a special game beyond market, and its art has its own indie features anywhere, this kind of games is considered indie game.
Raymond: Although we are in the game industry, there is a saying called identification. In movie and music industry, there are some indie films, indie music and small mass films. I think the game is a bit like indie music, rock music, and a bit like small mass films. I myself used to have several labels for indie games. The first one was no money. I set it to under one million and 99% of indie games did not cost more than a million dollars. Because of the relatively small amount of money, developers need to innovate and take riskier projects. The big manufacturers are unwilling to do it. If the risks are greater, the innovation is greater and the team marketing is smaller, the rate of return varies greatly.
We did a special art exhibition, with summing up at the time that how indie games become commercial while maintaining the independence, which is also an interesting topic.
Yu Yang: I think, in fact, it can be commercialized. Just to find some easy ways for players to accept, unlike the online games to fully tap the user's payment points. Now players are getting smarter, so indie games first pursue quality, then players are pleasant to accept the mild payment.
Raymond: Indie games and commercialization can exist at same time. Should they be well integrated and do you think they have positive impact on each other?
Chen Diwen: The beginning of the game is because the real love of the game, hoping to make games to express their ideas. If there's no way the game can survive for itself or its team, its hopes will be short-lived.
Raymond: I particularly agree. We had more than 200 indie games distributed to all over the world from 2012 to 2013. These more than 200 people are still producing indie games in the industry. Based on my thoughts, I first reserve. Indie game developers want to produce games emotionally, because they want to survive, even if they have common survival for families and teams, what are your commercial advice on indie games?
Chen Diwen: Indie game developers are slowly aware that the commercialization of the game does not necessarily hurt the players. Game characters actually need to experience growth and bring the satisfaction to the players after growth, which can also be commercialized. For example, advertising and game contents of "Crazy Zoo" combined well. It allows users to watch ads, while developers and publishers getting benefit and creating a commercial balance.
Raymond: In July this year, our company made an indie game show in Shanghai, inviting the global developers and Chinese publishers to discuss about some new ways to do indie game marketing and commercialization. We opened Press Conference in September in Bird's Nest stadium, inviting developers from Uruguay. We are one of the innovative companies in indie games. These are our attempts and do you have tried to commercialize indie games?
Chen Diwen: We just have supported program for indie games, which is mainly to support developer technology and market program to expand various channels through existing resources. We will do group testing in player base, official account and microblogging to circle out the indie gamers.
Yu Yang: From 2016 we have our own set of support policies for indie games to provide developers with RP, office space and executive affairs.
Raymond: To supplement our company's practice, in fact, we often talked with the developers about a few aspects that your games must be in the first one percent of the games. If two peasants' cherries are very good, best level of a pound costs 50 dollars, while better level of a pound costs 25 dollars, which also can sell out. But the game industry is different, the best is very obvious. Your game is one hundredth weaker than the other, so 99% players will play the best level. A lot of marketing activities are based on the best games to help them produce the games well. Inviting team game producers from Shanghai, E2W controls of the quality of the game, which is the most important. Our company is still relatively small, basically makes the best original games with the original flavor, which is our current characteristics.
Chen Diwen: Just talked about polished game. Distribution with more understanding of the market will be a great help to the development. As we often talk about in the game tide, the opinion for each version of the updates will promote the modification of the games, which is called the mutual promotion.
Raymond: There is a slogan about business and games, ALPHA's slogan is "Natural Fun". Would like to ask you about your own corporate slogan?
Chen Diwen: Our slogan is very simple — "sincerely make a good game". Sometimes sincerity and intention are important to both players and developers. Sincere communication with players and helping developers optimize their products are the best.
Yu Yang: Our slogan is also very simple — "happy-based". I hope developers will not give up joy of the game and the pursuit of happy R&D games.
Raymond: Our slogan is "New Overseas Classic, Fun Experience", which means overseas games are destined to become classic and not only fun now, but also fun in the future. This game must continue to upgrade new contents or else it will become disposable. There is no way to become commercial in short-term, so we have to keep innovation. Do you have any suggestions on indie game developers?
Yu Yang: Our identity as a publisher, what is the lack of indie games? Just about the lack of indie games, its life cycle is particularly short and how to make an indie game not to be daily disposable? However, in fact, an indie game is also a commodity that can be slightly commercialized. At present, many developers cannot accept it. I think this is a big deficit.
Raymond: We are publishers and cannot change its value but only enlarge its value. If the game is good enough, we will put its value magnified. If the game's retention is only 10% and players' ratting is only 3 points out of 10 points, we have to abandon it. This is our philosophy of distribution.
Chen Diwen: The king of indie game is actually quality.